I could talk about technology as usual, but today I'm going to do something different. As we close the year, I want to highlight an organization that doesn't get enough credit. How many times have you been on Wikipedia this year? Dozens? Hundreds of times perhaps?
Every poorly researched research paper, and verified scientific fact you get from them is  ad- free thanks to the Wikimedia Foundation,  thousands of donors who pay for it, and hundreds of thousands of volunteers who keep it accurate and spam-free though they're payed in nothing but gratitude. Even the founder and head of the organization, Jim Wales doesn't take a penny.. The tens of millions of articles in nearly 300 languages have a global reach, offering a source of information never possible before today. 365 million people, enough for one million people per day of the year, visit Wikipedia regularly, racking up billions of monthly pageviews.
"People take issue with individual aspects of Wikipedia all the time. But it's kind of hard to hate the general idea of a free encyclopedia. It's like hating kittens. "- Jimmy Wales
People of all occupations contribute to a global resource. Scientists, teachers, businessmen, and more have worked together to create a resource so vast that it covers everything from the smallest town to the largest known planet, and beyond. Wikipedia really is incredible in size, numbers, and in its' existence  and I'd like to highlight the work of the foundation today through sharing this video that they just posted showcasing a few of the fine folks who volunteer their time on Wikipedia. Enjoy.
The new iPad Mini's high price has left questions of whether people will buy its' cheaper competitors instead, and while I can't answer those questions in the broadest sense yet of whether it will sell, I can relay one story of a consumer I spoke to.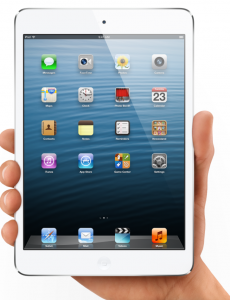 Yesterday I met a woman, in her early twenties, who was very techincally savvy. While you couldn't classify her as a nerd, she had a nice PC laptop, an iPhone, and an impressive selection of apps and games. For over a year she'd been eagerly awaiting the new iPad Mini.
Last week the iPad Mini  was unveiled, and two days later this woman bought a Google Nexus 7 tablet… and she didn't buy an iPad Mini. This perplexed me so I questioned her further. Her expectation for the iPad Mini was a device with a Retina Display at an affordable price. She was really disappointed that she couldn't watch HD movies.
She's young. She was downloading games and movies onto her Nexus 7 as I spoke to her. She had expectations and they were not met. Without a Retina Display, she simply couldn't justify to herself buying a device that costs $100 more.
So what can we learn from this? When you continually release new technology, you can get away with a higher price. Example: Retina MacBook Po. But… When you use technology from a device that is two generations old (the iPad 2) and expect people to pay up, some people will go elsewhere (Just like the ill-fated Nexus Q). Don't scare away your customers. Apple will still sell millions, but they made some mistakes which is perhaps why they had to fire some people the other day (though probably not, considering who was fired)
A HUGE (by Northeast standards) storm is coming which will most likely know out power (and internet) for days to come, and I'm preparing for it in the most nerdy ways possible.
I want to make sure I can access the web for videos, and netflix, when TV is out and my DVR is out of good material (using a generator to run the TV, assuming it works. I also want to make sure I can keep posting here, and that I can do other work.
First, I'm charging everything. I'm fully charing my Retina Macbook Pro, my iPhone 4 which will also serve as my backup Wifi network (see how to set it up here), and the Samsung Galaxy Note on loan to me which will also serve as my backup wifi (using 4G!).
I'm also charging my Powerbag battery backpack(click to see my review) so that if I have no power, or I'm in an area without working outlets, I can charge my phone(s). It's been a lifesaver in past storms.
Also at the ready is a second charged macbook Pro (my old one), and my infamous charged HP netbook, along with my bose QCs to block out any thunder. Good luck to the rest of you out there, and stay safe. How are you prepping for Frankenstorm?