If you've picked up an iPhone or iPad in the past years, or watched an Apple commercial, you've probably heard her voice. She's SIRI, the automated virtual assistant that Apple created for the iPhone 4S, and that has appeared on every device since. But until today, the woman behind the voice has been secret. She's the voice of SIRI, and she's talking… and it has nothing to do with directions.
In the video embedded below, Susan Bennet, a voice actress who also provided the voice for the world's first ATM, discusses how she stumbled upon SIRI, and how she found out that she'd been cast as the world's busiest secretary.
And if you've ever dreamed of SIRI having a conversation with herself, she did that too.
How SIRI was created is an even more interesting tale. For four hours a day, for a month, she was hired to record various sayings. After several years, she'd nearly forgotten about the project when a friend emailed her to ask if the voice of the iPhone was hers.
Watch The Video, and Tweet Us Your Thoughts (use the button)
A recent reader disagreed with my use of AllthingsD's Walt Mossberg and the New York Times's David Pogue's reviews as evidence of its excellence. I later tested it, and agreed with the press assessment, but his words stuck.
He tweeted that he thought they were "practically on Apple's payroll" (see the tweet embedded below). So I started tweeting him quotes from other reviewers who thought the same things. The resulting list, I found to be compelling evidence that the iPhone 5S is a solid phone.
This is the only list you'll need, to prove that the iPhone 5S is a quality choice as a smartphone. Bookmark this, and send it to all your Android-loving friends.
@appstoremike Mossberg and Pogue are practically on Apple's payroll. Let's be honest–iOS7 looks like Android and Windows Phone had a baby.

— Jeff Fluckiger (@fluckiger) September 22, 2013
You can make the claim that two reviewers are biased in their opinion, but you can't deny that ten major reviewers are all partial. So here goes. What the tech world had to say about the 5S:
Reminder: The iPhone 5S isn't right for everyone. We're not saying that. We're saying it's a great phone, which is true. 
Engadget: "more than meets the eye"
Anandtech: "the iPhone 5s won't disappoint"
Techcrunch: "best smartphone available"
New York Times: "The iPhone is no longer the only smartphone that will keep you delighted for the length of your two-year contract — but it's still among the few that will."
Wall Street Journal/ AllThingsD: "the new iPhone 5S is a delight. Its hardware and software make it the best smartphone on the market."
CNET:"better than the S4 and any other recent Android phone we've tested, making the 5S a theoretical paper champion for gaming."
Daily Mail: "the best smartphone on the market"
Popular Mechanics: "the iPhone 5s is appealing"
The Verge: "maybe the best smartphone ever made
Forbes: "another beautiful piece of engineering from Apple, and a worthy container for your life's content."
Time Magazine: "the iPhone 5s is a meaningful advance on the iPhone 5, and comfortably ahead of any phone that doesn't have a picture of a piece of fruit on its backside.
Me (might as well sneak in here): "After testing this phone for around 30 minutes, putting it through its paces, I'm confident that I've made the right choice, and I'm really impressed."
Even blogs dedicated to Android had nice things to say about the 5S. Here's a bonus takeaway:
Android Authority noted that if you don't mind Apple's closed nature, "it's a pretty nice phone really".
Pricing:
Don't let anyone convince you the iPhone is expensive anymore. The Note III is $100 more expensive on and off contract, and the Lumia 1020, Galaxy S4, and HTC One are identically priced. Here's a good pricing chart: http://cnet.co/1gQKQ5G
Benchmarking
Benchmarking may not always be a true indication of a phone's performance, but if your friends are still arguing with the consensus of 11 notable, impartial tech reviewers, you can point them to these charts. Each pretty much tells the story.
Let's Chat
If you disagree with the information presented in this post, I'd be thrilled to discuss it with you. Leave a comment, and we'll talk.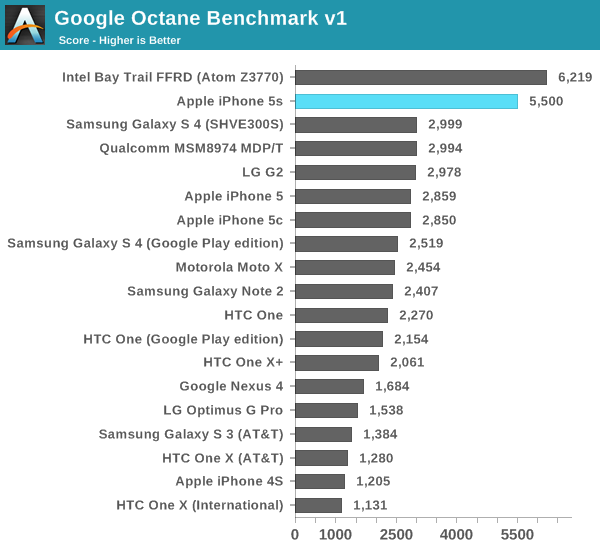 After months of rumors, weeks of leaks, and days of post-release anticipation, I finally got my hands on a gold iPhone 5S for testing. After testing this phone for around 30 minutes, putting it through its paces, I'm confident that I've made the right choice, and I'm really impressed.
Design
The golden iPhone has been quite controversial (remember this parody?), so I was quite surprised to find that the gold was actually stunning. The gold isn't dark, flashy, and shiny like bling. It's a soft, light, matte gold that can very accurately be called "champagne".
The profile of the 5S is nearly identical to the iPhone, with the exception of the camera and the home button. Concealing the fingerprint scanner in the home button is a true innovation, because it leaves the rest of the phone's design as clean and open as ever.
The phone as a whole has a feeling of durability when you pick it up. There's no give in the back, and it doesn't seem prone to scratching, as the old glass backs of the 4S and 4 were. The back barely even picks up fingerprints. This is a phone that's designed in a way that makes a case optional.
Also incredible, though not necessarily new, is how they've managed to maintain the weight and width. The 5S is still thinner than a pencil, and reasonably light, especially in comparison to the 5C. I've always love the mirrored beveled edge, and that has also made an appearance in the design, along with the flat, smooth rim.
Speed and Display
I'll admit that the 5S display is narrow, and that it could use another centimeter. Color reproduction is very good, as usual.
With the 5S you're (very) rarely waiting. Admittedly, It's something that you won't notice everyday, until you move onto a device that isn't the 5S, and you realize that your wait time on every task has been 0. As the song goes, "you don't know what you got 'til it's gone". After having used the 5S, going back to my 4 was really challenging.
For gaming, I tested the 5S on Temple Run 2. It ran very smoothly thanks to the new 64 bit processor and graphics enhancements, which Apple likes to plug as "console quality". I'm glad to report that there was absolutely 0 lag, and gameplay was just about flawless. Given the complex and changing layout of Temple Run 2, it's a pretty good indicator that just about any game will run flawlessly on the 5S.
Text is crisp on the retina display, and images load quickly thanks to the 4G LTE connectivity, and improved WiFi antenna. A Youtube video of Billy Joel's "Piano Man" music video, played in Safari, loaded in just a few seconds, and played perfectly through without buffering. As with games, video looks good, if not great on the display. Videos are where a full HD display is missed the most.
Speaking of the new Wifi antenna, you may be interested to know that I empirically found the iPhone 5S's antenna to be far superior to that of the 5C. This was no minor difference. On the same wifi network, the 5S started playing the given song on iTunes radio instantly after it was tapped. On the 5C, several seconds of buffering were required to play that same song on the same Wifi network.
Lastly in the speed category, SIRI is now significantly faster. Commands like "make the screen brighter" are understood and acted on near instantaneously. More complicated commands like "Where's the best pizza restaurant on the way to New York?" only take a few seconds to resolve.
Battery Life and Heat Dissipation
Battery life could be better. Doing intensive activities like using the camera can drain the battery pretty quickly. It's not bad. It's just not great, based on my limited testing.
Heat dissipation is an issue that iPhones, and Apple products in general have had trouble with in the past, so I was happy to see that the 5S seems to have resolved this issue. In a course of activities that noticeably heated the iPhone 5C, including gameplay, camera use, and multitasking, I didn't notice any increase in temperature on the 5S.
Fingerprint Scanner ("Touch ID")
I didn't get a chance to test out the scanner myself, but the person I borrowed the phone from reported that the scanner had worked very well in their own use. I'll have more on this when I get my own 5S next week (I ordered it).
Sound Quality, Music, and Speakers
The sound quality didn't disappoint on the built-in speakers. Using iTunes radio, I tested the 5S versus the 5C, and found the 5S to be significantly louder (more on this in my comparison post). The audio was very crisp, even at high volumes, and highs, mids, and basses all seemed to sound very nice. I used Billy Joel's "Piano Man", and "Come Together" by the Beatles for testing, by the way.
On the point of audio, I also found the new iOS 7 ringtones very entertaining. Many of the ringtones and alert sounds remind me and my friend (a gamer) of the music from old '90s, and 2000s era video games, like Pokemon and Animal Crossing. Those also sound very nice.
Camera (the highlight of the phone)
see demo photo full sized here. I had to shrink it down to fit into this post.
The camera is what truly sets the 5S apart from the competition. I tested the 120 FPS HD slow-motion video, and I was amazed to find that there were no exposure or focus issues whatsoever. I've had cameras with slow-motion 120 p video before (like this one), and I've often found such videos to be pixelated, out of focus, or severely underexposed . The moving objects in the video were perfectly crisp, and performed just as billed.
Photos were crisp, detailed, and had nice "bokeh", at least for a smartphone, even in burst mode. Autofocus was snappy, and stabilization was effective at minimizing shake. Color balance was pretty good as well. I didn't get a chance to test it in low light, which is supposedly where the most marked improvements were, so I'll comment on that later.
All the features brought up in the keynote worked as billed. The instagram-like filters worked fine, though I'm not sure why it took Apple so long to implement this, considering that it's practically the same technology as photobooth for iOS. Burst mode (multiple shots in rapid succession) seemed to worked at the described 10 frames per second, and even has a neat little counter for keeping track of how many shots you've taken.
The improved frontside "Facetime HD" camera also took decent photos, especially as front-facing cameras go.
Also worth noting is that the iPhone 5S comes with Apple's iPhoto, along with their entire iLife and iWork suites. iPhoto for iOS is decent, but for the price of free it's a good photo organization and editing tool.
First Impressions – Conclusion
My conclusion based on these first few tasks and sessions with the 5S is that it's an excellent phone, and a more significant upgrade than it's given credit for.
While the battery life and display size don't thrill me, the design, the awesome camera, the fingerprint scanner, and the consistently excellent experience that the 5S provides have me sold on it.
The iPhone 5S is available online at Apple.com, and in-store at just about every retailer (Best Buy, Walmart, Radioshack,etc,). The gold is sold out until October.
Own a 5S? Leave a comment with your own first impressions