If you remember WAY back, I wrote about my experience with Gogo Inflight Internet, and seriously, internet makes the difference between a boring flight, and a productive flight. But current internet is prohibitively expensive for its' speed. A one day pass on Gogo costs  $14. In an age where domestic airlines are trying to differentiate without raising costs, I was wondering
why none of them offered free Wifi fo domestic first class passengers. To research this subject further, I asked some of my favorite travel bloggers, and found some interesting points.
So did they think it should be a perk? Seth Miller of Wandering Aramean, and Steven Frischling of Flying With Fish think so.
 It certainly seems to make sense. It's inexpensive to give away, valuable to the flyer, and it's unique. Why give away free drinks when you can give away free internet?
Still, not everyone agrees. Mary Kirby, editor in chief of the Airline Passenger Experience Magazine points out "A consideration, though – if Wi-Fi is free for first class, that's going to soak up bandwidth for paying passengers".
As I said, the speeds are limited, and she makes a good point that these planes only have a limited load of bandwidth which 5-12 extra passengers could easily overload. Still, not every first class passenger would utilize it,  and many who do would have bought it anyway, so it's a tossup. The Weekly Flyer of Points Miles and Martinis pointed out "Some would still need monthly subscription for times in coach". No one is in first class on every flight. Maybe it could be an elite level benefit?
I think this idea has potential, and I'm going to try and ask a few airlines and explore this further, but it certainly does have some issues. What do you think?
Do you dream of running a marathon, but have no athletic ability or will to do so whatsoever? On February 2nd YOU can make people think you ran a marathon as a part of the 1st Annual Run-Free Fake Marathon. I'm not even joking.
This Kickstarter Project is a Psychological Experiment into how many forged photos and tweets and updates it takes to "make a fake race real". For a price starting at $10, you get a marathon bib, T-shirt, medal (in a few packages), fake information packet, and everything else you'll need to make people actually believe you ran a marathon.
Around the start of February, people will be coordinated through the instructions to tweet certain details on certain days to hammer home the points. The kicker is that they ask you to take a photo on a random road running with the bib on race day and tweet it out. As someone who can barely make it two miles, this is my kind of product, and I'm considering investing. Nearly 500 people have already backed this project. Sounds Like a good idea to me. What do you think?
When Google quietly announced it's latest flagship smartphone, the Nexus 4, which is made by LG, people were shocked that it did not have 4G LTE technology, but rather HSPA+. While HSPA+ is not bad (it actually can compete with LTE on speed) it isn't quite as fast and won't be supported as much in the future. Google says that they didn't include LTE in order to keep the cost down and ensure compatibility with all GSM networks. Apparently though, there is an LTE chip hidden inside the nexus 4.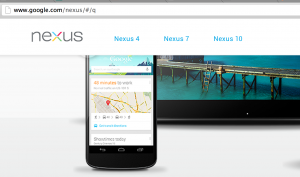 The Nexus 4′s internals are largely based on LG's flagship smartphone the Optimus G. It is possible that the LTE chip was copied over from the Optimus G in order to be able to manufacture the device in the same factory, which means that apparently there is an LTE option available (a little easter egg). Either way, this is definitely welcome inside the device, because using a simple hack, anyone with the Nexus 4 can have 4G LTE enabled and working. See this guide to learn how… http://www.technobuffalo.com/companies/google/android/hackers-get-nexus-4-running-on-4g-lte-networks/