We've done a lot of polling lately, and one of the things we asked you was "What do you think of Windows 8?" The split was pretty even for whether people liked it now, but 29% of you said that you believed Windows 8 is a step in the right direction. That's just one step though; Microsoft has worked hard recently to reimagine their company.
Apple made more revenue from iPhones than Microsoft did in total this year, and they've set out to change that. This month they released Windows 8, Windows Phone 8, and the Surface to further their strategy of unifying their product line.
Windows 8, as I wrote last week, seems to be a leap in the right direction. It's modernized with a more consumer friendly look. It's built for tablets and touch which is the future of computing. The Windows 8 app store is a promising step in distributing Windows apps and curbing bugs which have plagued Windows for years.
As I also said, it will take a while for manufacturers to switch to touch hardware in full, and Windows 8 is not built for non-touch hardware. This is where the surface comes in. Microsoft raises their revenue which helps their weak bottom line, and they get a chance to  exemplify what they see as the future of computing. They are setting the standard of Windows PCs by releasing their own. Hopefully I'll be able to really put this to the test if Microsoft lends me a Surface to review.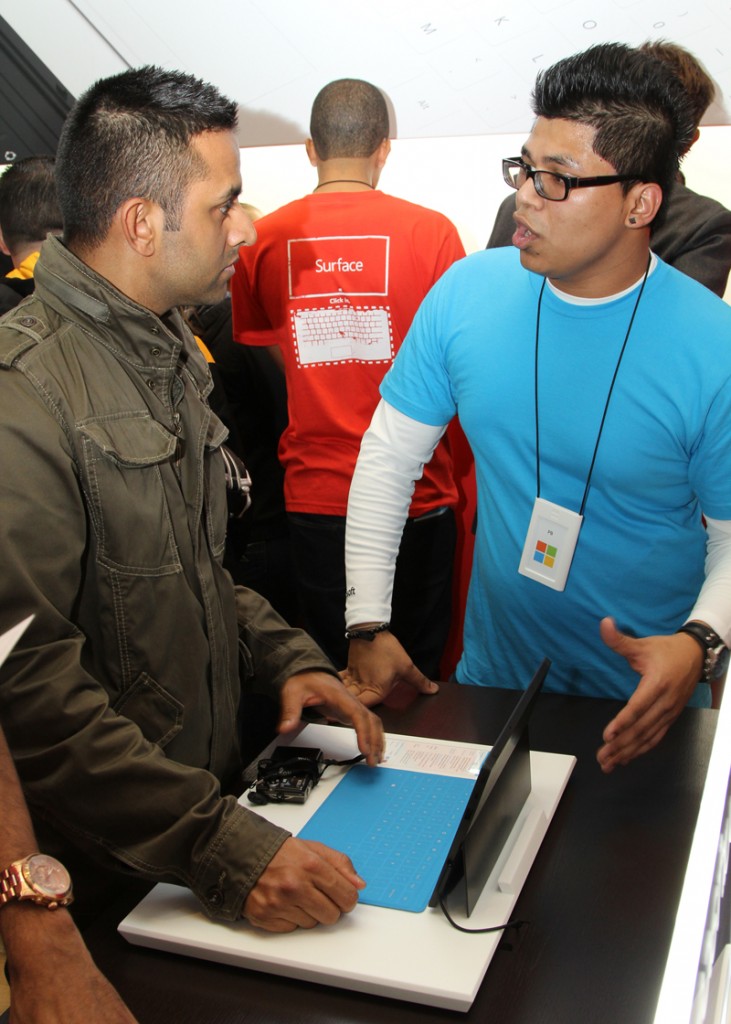 Microsoft isn't even done there. Their new Windows Phone 8 OS resembles their main operating system which gives them brand identification. The phones are optimized for Windows (although they do have an app in the Mac app store) which gives people more of a reason to use PCs. The actual OS is very well designed. In my limited testing of it, it looks fantastic, works very speedily, and impressed me continually.
My only issue with the OS is that for some psychological reason, the boxiness feels a little claustrophobic for my taste. It's just this feeling I get when I look at the home screen which really throws me off. It doesn't happen on larger Windows displays, but I get it on the smartphones.
It isn't all good news for Microsoft. Their controversial CEO, Steve Ballmer is a little delusional and arrogant which is not a group of positive traits for a CEO of a sinking company. Ballmer said in a CNBC interview, "You can go through the products from all those guys … and none of them has a product that you can really use. Not Apple. Not Google. Not Amazon. Nobody has a product that lets you work and play that can be your tablet and your PC. Not at any price point". Is he kidding? Apple has sold 100 million iPads to rave reviews. Google and Amazon have sold several million tablets as well. Apple has sold several hundred million iPhones and Google's Operating system Android has well over 500 million activated devices. What is Steve Ballmer talking about. What world is he in?
Still, Microsoft seems to be on the right track, and I'll know more when I test the surface and do more testing on Windows Phone 8. With the changes they've made, Microsoft has shown they're serious about reform, and despite the blunders of their CEO, I believe Microsoft definitely has a good shot at gaining more loyal (and profitable) customers for the long run. What do you think? Leave a comment or answer the poll.
A HUGE (by Northeast standards) storm is coming which will most likely know out power (and internet) for days to come, and I'm preparing for it in the most nerdy ways possible.
I want to make sure I can access the web for videos, and netflix, when TV is out and my DVR is out of good material (using a generator to run the TV, assuming it works. I also want to make sure I can keep posting here, and that I can do other work.
First, I'm charging everything. I'm fully charing my Retina Macbook Pro, my iPhone 4 which will also serve as my backup Wifi network (see how to set it up here), and the Samsung Galaxy Note on loan to me which will also serve as my backup wifi (using 4G!).
I'm also charging my Powerbag battery backpack(click to see my review) so that if I have no power, or I'm in an area without working outlets, I can charge my phone(s). It's been a lifesaver in past storms.
Also at the ready is a second charged macbook Pro (my old one), and my infamous charged HP netbook, along with my bose QCs to block out any thunder. Good luck to the rest of you out there, and stay safe. How are you prepping for Frankenstorm?
So you forgot your wifi password. It happens. Your friend comes over and wants your wifi password… and you can't remember it. If you have a mac, you can recover it in under two minutes (I can do it in about 40 seconds). Also interesting: How To Set Up a Wifi Network using your iPhone.
You will need to have been on the wifi network before.
Go to your applications folder.
Open the utilities folder.
Open the app called "keychain access". It's pretty easy to spot with keys as the logo.
Find the name of your wifi network (i.e mynetwork1) and double click it.
A box will open up. Click to check the box on the left labelled "show password".
Enter the password to your computer account when prompted.
Your Wifi password will show up in the white box next to the box you just checked. Bammo.
Was this helpful to you? Let me know in the comments, and share it on facebook, twitter, etc.